Sculpture Garden and Trail
Greeting visitors as they arrive at the Carving Studio & Sculpture Center, the Sculpture Garden and Trail grew from a symposium that honored Vermont's Bicentennial in 1991.
The Sculpture Garden is a celebration of three-dimensional art and, in particular, Vermont marble. The Sculpture Garden provides not only a tranquil viewing space, but also a thought-provoking collection of work, with new pieces added each year. The Sculpture Garden has grown to include a .36 mile forested walking trail, completed in November 2022. SculptFest23 was the first exhibition featured along the forested trail, with 10 site-specific works installed among the marble industrial remains found along the path.
The Sculpture Garden and Trail are open to visitors year round during daylight hours.
Below is a sampling of the works currently on display.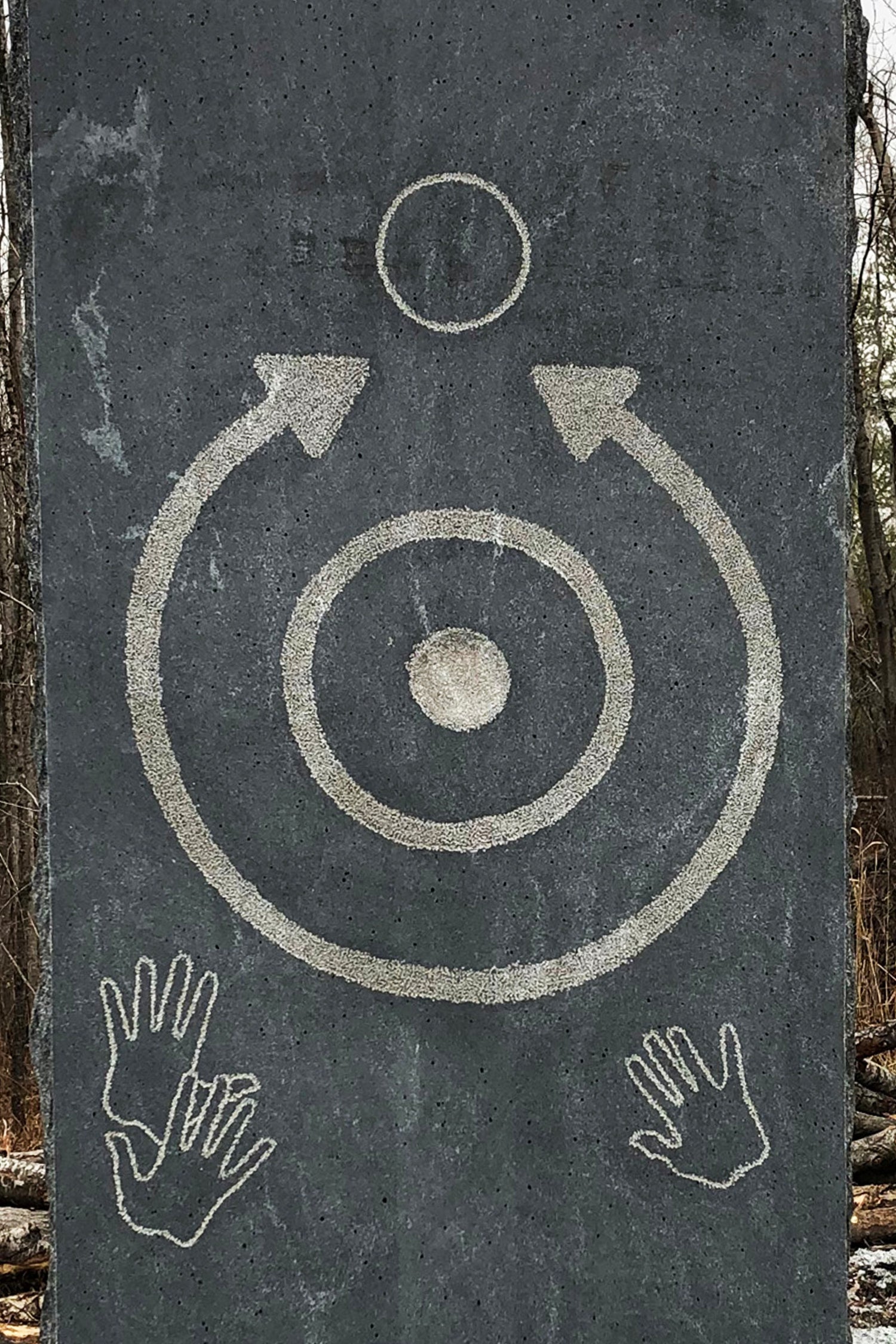 The Seven Sisters Stelae
"Seven Sisters" was inspired by and pays homage to the Pleiades star cluster, featured in myth and folklore for four millennia. Artist Josie Campbell Dellenbaugh attributes seven stages of women's lives to the stellar group. The standing, black marble slabs are carved with symbols and arranged in a circle aligned with the Pleiades at the Winter Solstice.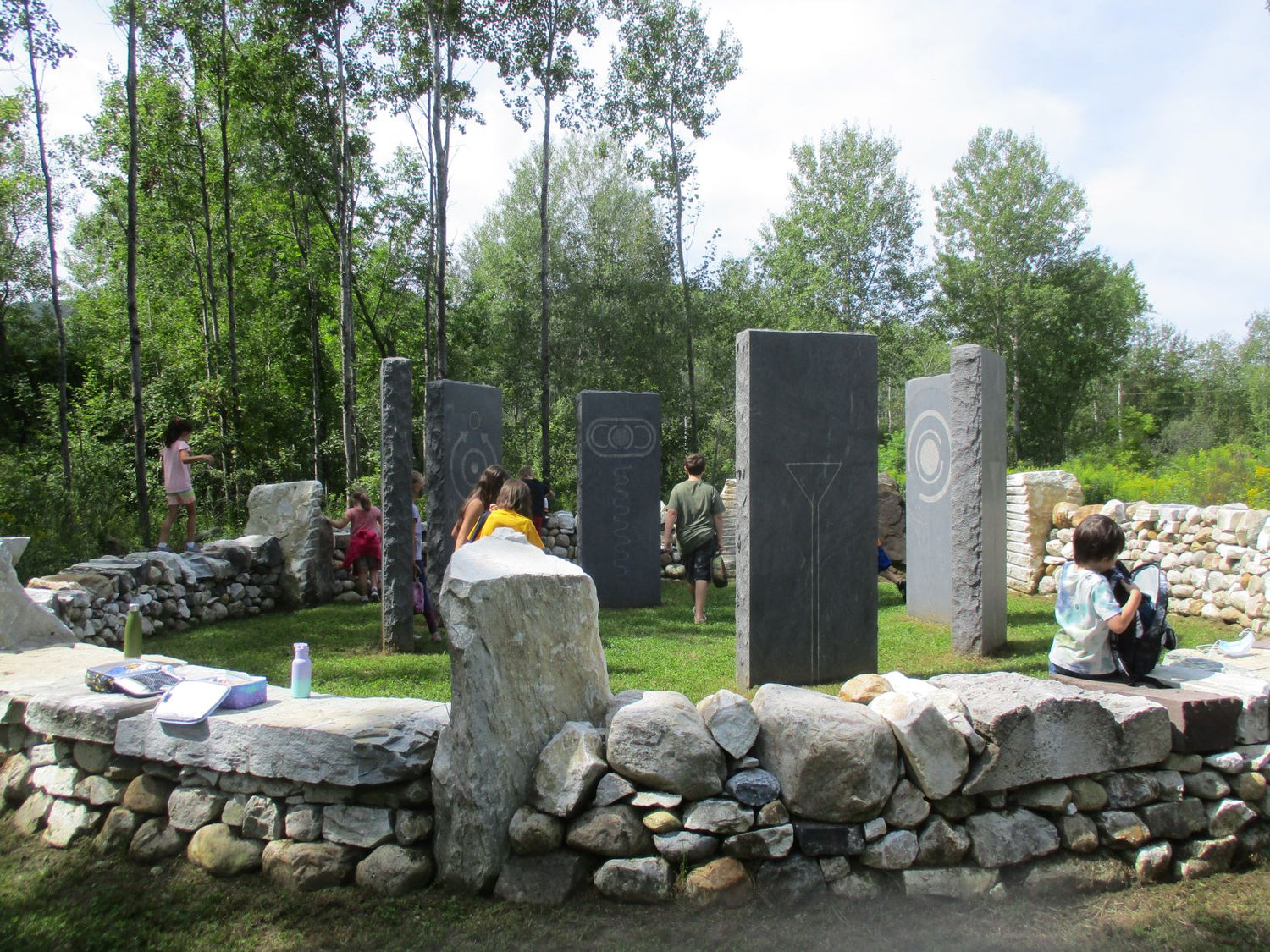 The installation is comprised of three parts:
A. Sighting Wall, which points to the position of the Pleiades rise on the Winter Solstice
B. Outer Precinct Wall
C. The Circle of the Seven Sisters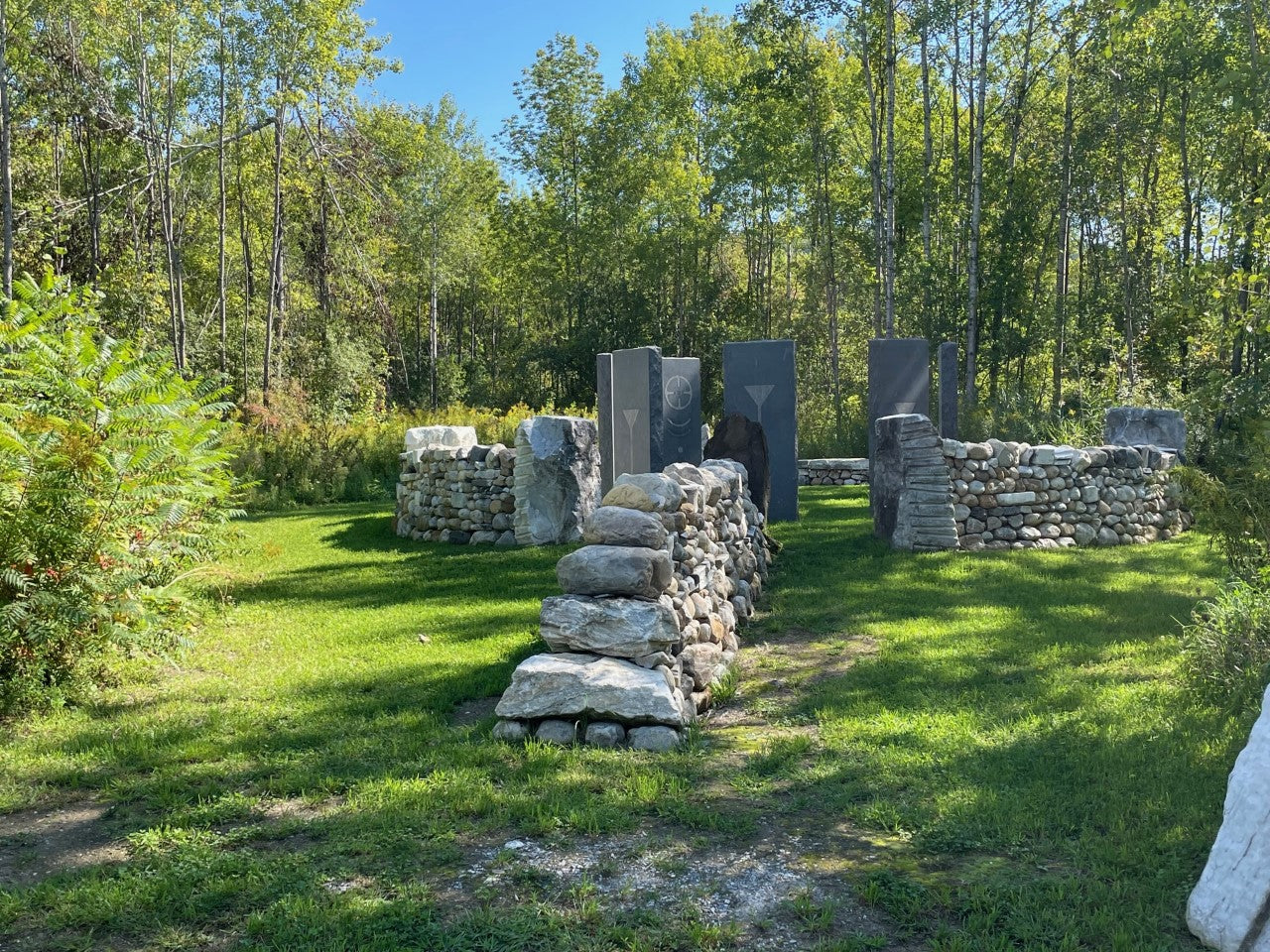 The Outer Precinct Wall was created by master stonewaller Dan Snow in consultation with the artist. 
"Seven Sisters" is a privately funded permanent installation at the Carving Studio & Sculpture Center Sculpture Garden. Conceived and created 2018-2020; Dedicated June 2021.
Other work on display in the Sculpture Garden includes:
Artist: Percy Kuta

Title: The Heart of the Whirlwind

Material: Marble

Artist: Elena Saracino

Title: Genesis

Material: Marble

Artist: Ivan Rojas Tovar

Title: Couple

Material: Marble

Artist: Stephanie Robison

Title: Moon Dog

Material: Marble

Artist: Jamie Hatch

Title: Green Mountain Recliner

Material: Steel

Artist: Evan Morse

Title: Reach III

Material: Marble

Artist: James Kangoroti

Title: Toncho Man

Material: Limestone

Artist: Margaret Otieno

Title: Man Taking the Music Home

Material: Limestone

Artist: Hector Santos

Title: Jones

Material: Marble, Slate, Copper                     
SculptFest

Artist: Don Ramey

Title: Tree Pose

Material: Marble

Artist: Leonidas Chalepas

Title: Two Spaces Divided by a Wall

Material: Marble

Artist: Ahn Tran

Title: Aura of Friendship

Material: Marble, Granite

Artist: Frank Sansone

Title: Chrysalis

Material: Marble

Artist: Evan Morse

Title: Sunbather

Material: Marble

Artist: Rick Rothrock

Title: Trace

Material: Marble

Artist: Carlos Dorrien

Title: The Gift

Marble 2010 Symposium

Artist: Chris Welles

Title: Mass Displacement 2

Material: Champlain Black Marble, Earthworks

Artist: Chris Welles

Title: Mass Displacement 4

Material: Champlain Black Marble, Earthworks

Artist: Casey Wright

Title: Sea Fan

Material: Marble, Steel

Artist: Rick Rothrock

Title: Petitus Fugo

Material: Marble, Granite

Artist: Taylor Apostol

Title: Cava

Material: Marble, Serpentine, Steel

1995 Group Bench Project
Material: Marble

Artist: Persi Navarez

Title: L'observador (Guardian)

Material: Wood

Artist: Masaharu Suzuki

Title: Nizi (Rainbow)

Material: Marble

Artist: Ahn Tran

Title: Conversation with God

Material: Marble, Granite

Artist: Justin Rose

Title: Big Chief

Material: Marble

Artist: Tsuneo Narumi

Title: Hai

Material: Marble

Artist: Danny Palomino &
Alphonso Quispe

2010 Peru Exchange Stone Bench Project

Artist: Carol Driscoll

Title: Becoming Round

Material: Marble